<iframe style="width:120px;height:240px;" marginwidth="0" marginheight="0" scrolling="no" frameborder="0" src="//ws-na.amazon-adsystem.com/widgets/q?ServiceVersion=20070822&OneJS=1&Operation=GetAdHtml&MarketPlace=US&source=ss&ref=ss_til&ad_type=product_link&tracking_id=train08a-20&marketplace=amazon&region=US&placement=B000ANUHAA&asins=B000ANUHAA&linkId=VI3YF533RMMQMGU6&show_border=true&link_opens_in_new_window=true">
</iframe>
Updated: January 17, 2020
images/Web Graphics/700E Hudson #37-1920 - Webpage.jpg
To Order eMail: orders@trainxchange.com (or Call: (713) 528-3350)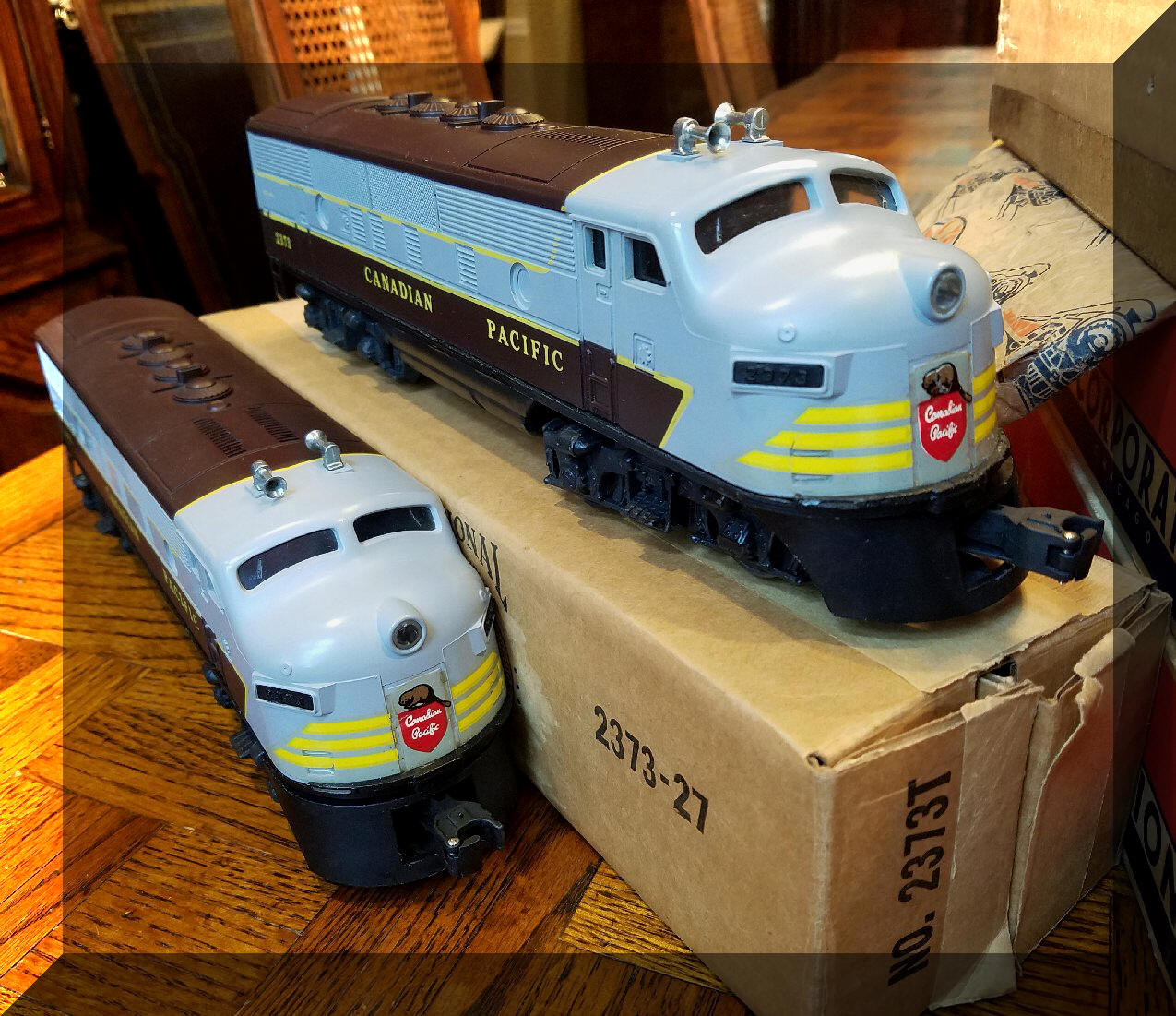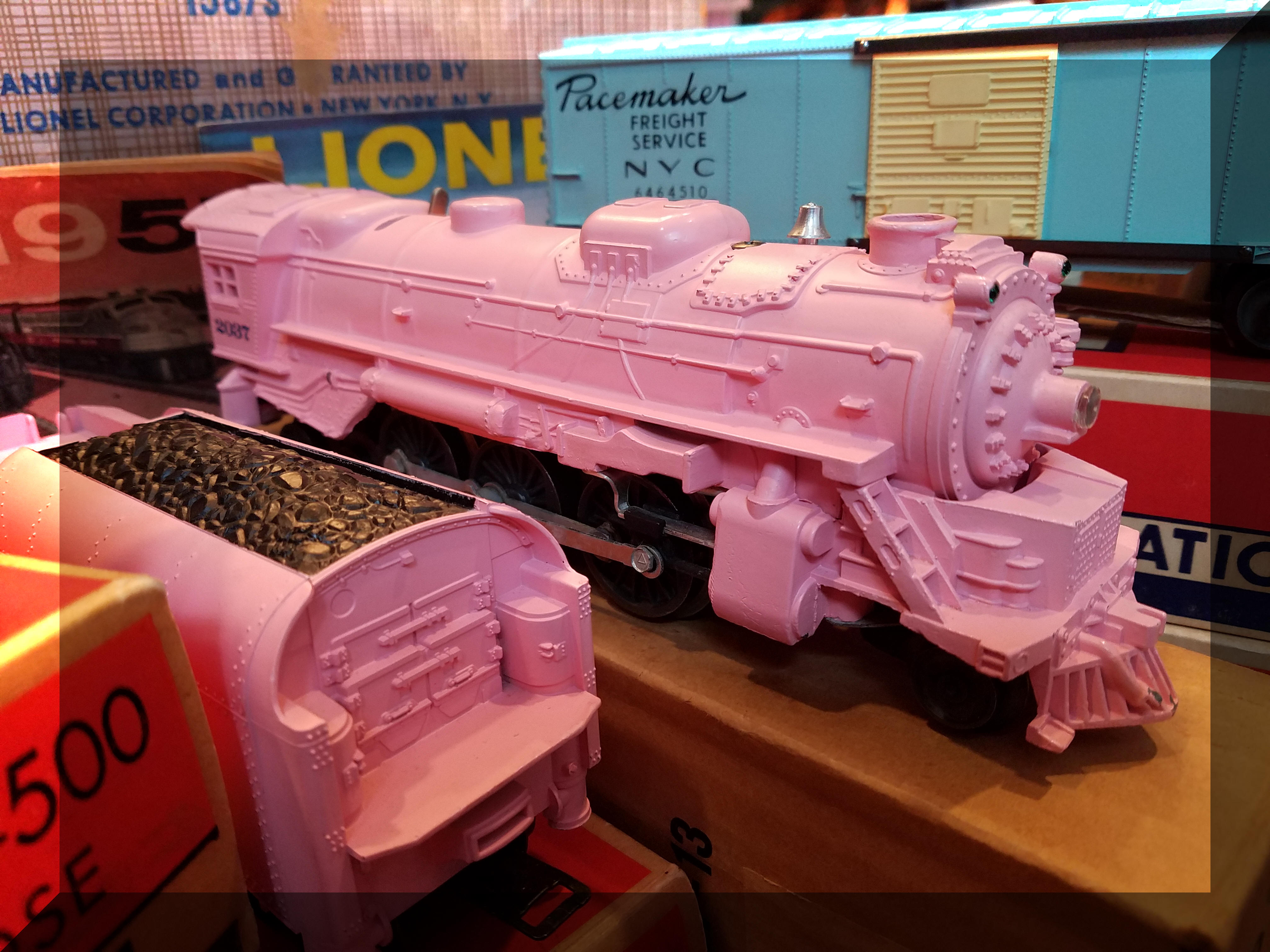 Just in - Fantastic condition Postwar sets including Original C-9/10 1957 Lady Lionel Girl's Set w/ components & set boxes, component boxed Canadian Pacific passenger set with C-9/10 2373 F-3 'AAs, and, Rio Grande freight set with C-9/10 2379 D&RG F-3 'AAs. Several engines, freight and passenger cars have also come available including Test-Run 2383 Santa Fe F-3 'AAs and 256X Red-stripe Santa Fe passenger cars in tough perf-panel Original Boxes.
Welcome to the wonderful world of miniature trains of yesteryear. Enough of those rugged, burly Lionel and American Flyer trains survived that you can still purchase quality investment-grade collector pieces and reasonably priced train items for operation. Whether you're interested in acquiring that special train item that you've been dreaming of, recreating that Christmas layout from your youth, upgrading an existing collection, investing in one of the few highly valued collectibles which you can actually enjoy owning, selling your trains or having them appraised - you've come to the right place!
The Train Source deals primarily in the consignment sale of quality American-manufactured trains made beginning at the turn of the Century through the original Lionel Corporation's demise in 1969. Our objective is to get the trains out of the attics, garages and basements in which they've been stored over the years and into the hands of folks who appreciate them either for display, investment and/or operation.
Enjoy your journey through the wonderful world of "high-rail" railroading.
---
TrainSource, P.O. Box 131584, Houston, Texas 77219
Contact (713) 528-3350 or email us
with your comments or questions about this page.
Copyright © 1999 All rights reserved.
Revised: Jan 25, 2007
---
LIONEL IS THE REGISTERED TRADEMARK OF THE LIONEL CORPORATION, NEW YORK, NY. This page is neither authorized nor approved by Lionel Manufacturing Company, Lionel Corporation, MPC, Lionel Trains, Inc., or Lionel LLC.
IMPORTANT NOTE: Transactions are strictly between the TrainSource [a Texas business] its consignor[s] and customer[s]. Transactions are neither sanctioned by nor subject to the rules, bylaws, regulations, standards, guidelines, practices or jurisdiction of any railroad club, collector, operator, railfan or other organization, notwithstanding the affiliation of one or more company owner (s), employee[s], contract personnel, consultants, and/or agent[s] with one or more such organizations. All sales are final subject to return only in the event of a misrepresentation of condition of item[s] purchased that significantly effects it's value. TrainSource reserves the right to replace defective items in lieu of issuing refunds.